One of the top questions from my boudoir clients are "What should I bring to my photo shoot?" While everyone has their own personal style, these are the 7 must haves I think every boudoir photo session needs.
HEELS: A MUST, BUT CLOTHING IS OPTIONAL.
Heels are sexy. They make your legs look long, sleek and shapely. The moment you put them on you feel and walk differently. I don't a single woman who doesn't love a great, sexy pair of heels. I also don't know a single man who doesn't love a woman in heels. I honestly don't think there is a single item more sexy than a pair of heels, which is why they're a must have for a boudoir photo session.
For your boudoir photo session break out the special heels. Not your everyday work pumps, but that special pair that you keep in a box, in your closet for special occasions.  That pair that are for being admired, but not necessarily walked in. After all your boudoir photo sessions IS a special occasion.
Pick a color, style, and details that you love. I always recommend your favorite pair of sexy black heels, but being at least two more that show your personality.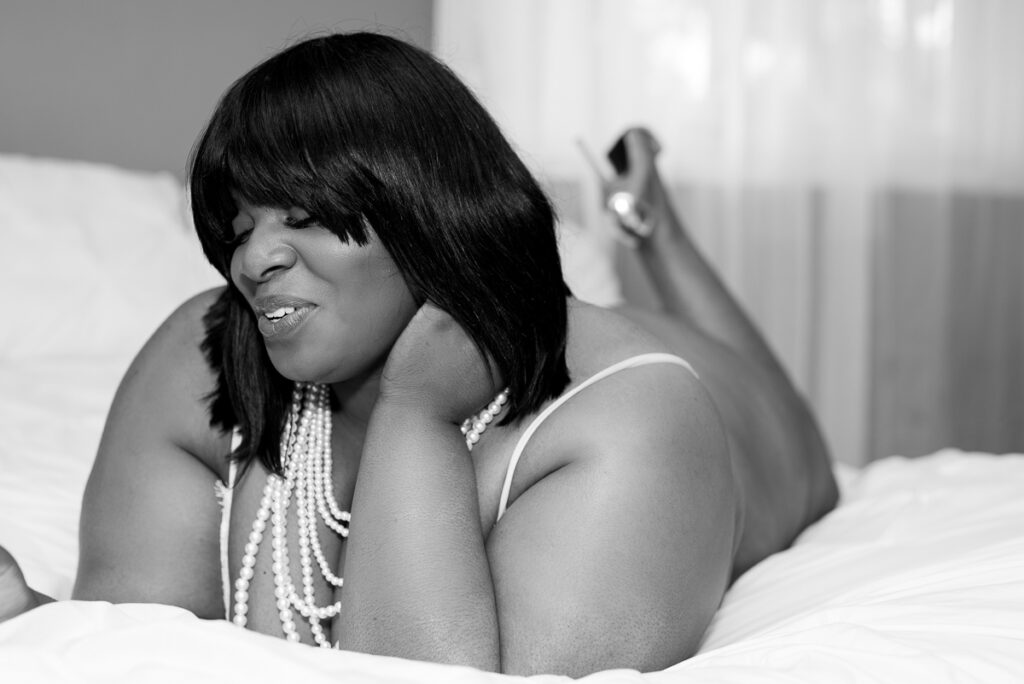 FRESH NAIL POLISH
There's nothing worse than a client having everything perfect, but having chipped nail polish. Boudoir photography is about the details and your hands will be in many shots.
You want the focus of every photo to be on your face, eyes,  and body, not your chipped and distracting nails. Nude polish and classic white, French tips or black are best and least distracting colors.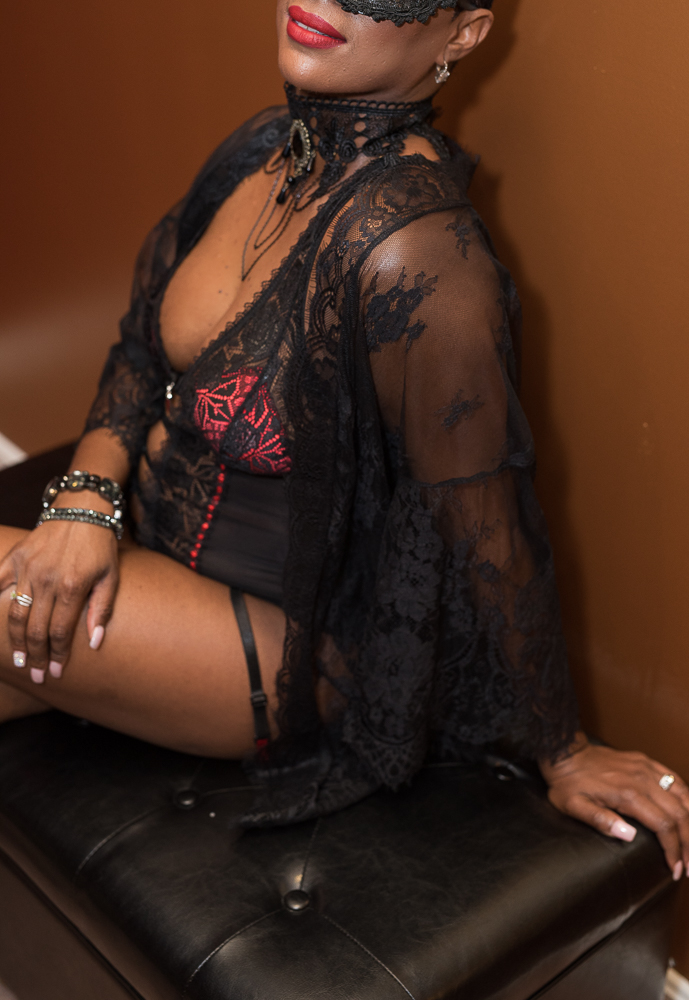 FLAWLESS MAKEUP
Having a boudoir photo session is a special event and this is a time to have your makeup done by a professional. You wouldn't wear your everyday makeup to your birthday party or any other special event where you are the spotlight, so make the time to schedule a professional. It also adds to you being pampered from the beginning of your photo session.
Lashes are also very important. Any good boudoir photographer knows this simple thing can make your eyes stand out in photos. So while you're the center of attention, make sure your photos reflect that.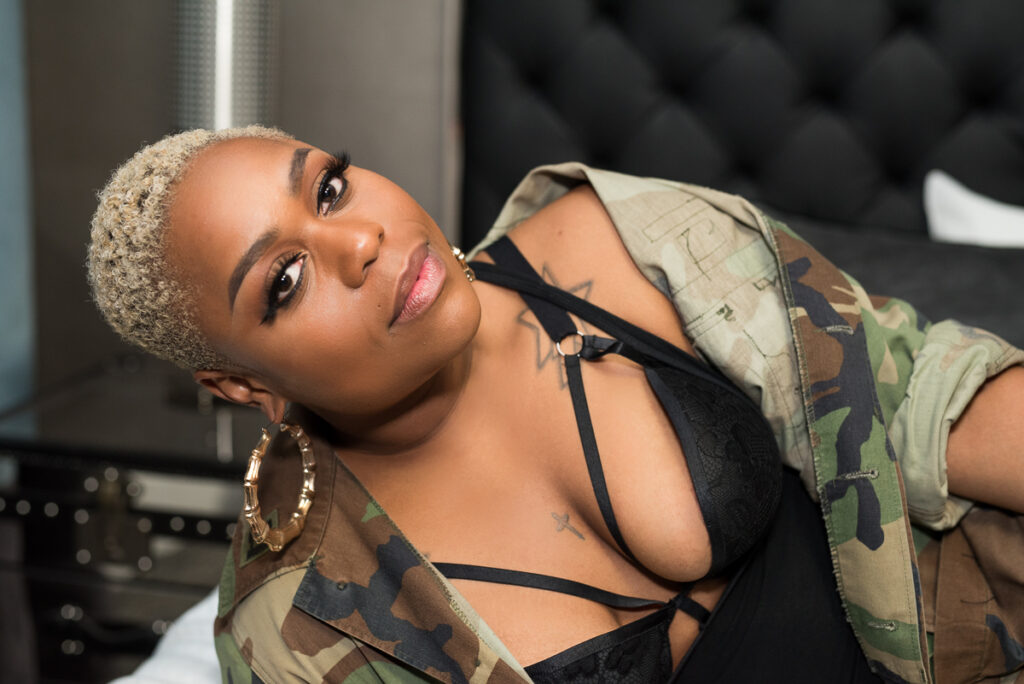 A HAIRSTYLE YOU LOVE
Hair is another thing that can define a woman's mood. Wear a style that makes you feel confident. If you're open to the idea, I would even suggest a wig or two that can change the picture's (and your) mood without taking away from the time for your photo session.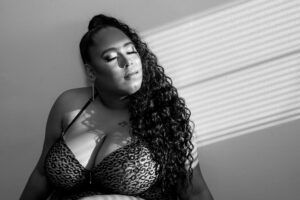 LINGERIE OR CLOTHING THAT FLATTERS
Every woman has something they love about their body and something they don't like as much. Wear lingerie that can accentuate things you like while keeping in mind choices that may cover or draw attention away from problem areas.
If you don't have the flattest stomach, choose things like a corset that will pull you in and define your waist or a teddy that won't reveal as much. If you love your breasts wear tops that show off your cleavage or a detailed bra that draws attention to them. Boy shorts are also a good option because they flatter everyone's booty.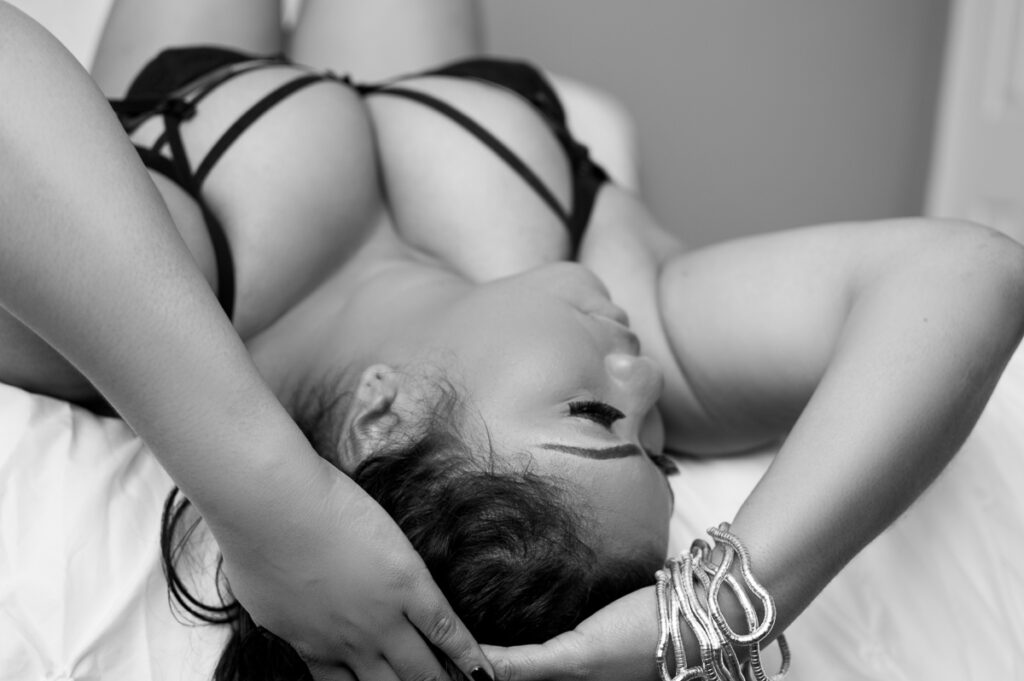 Fabrics and texture also add to your photos and help define the look you're going for. For instance, Lace and satins give a softer look while leather and fishnet stockings give more of an edge. You can also mix and match fabrics to make each look customized to your personality.
Choose color and prints! Black is classic and should be at least one of your clothing options in boudoir.  While black can appear to be slimming, color and prints in the right style, cut, and fabric can highlight your skin tone and flatter you even more than black. Color and prints are also fun and can bring personality to your photos.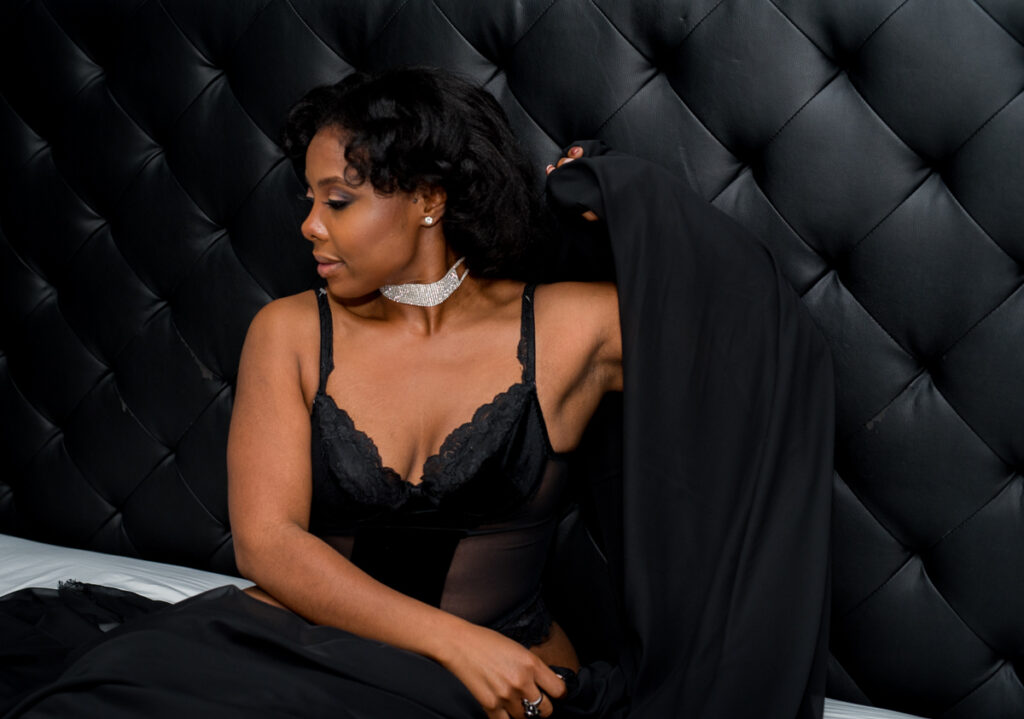 ACCESSORIES THAT SHOW YOUR PERSONALITY
The sky is endless when it comes to accessories. Whether you want the classic look of pearls or more edgy, statement pieces, choose accessories that fit the theme of your photo shoot.
Accessories that have sentimental value such as a wedding ring or family heirloom also bring a personal touch to your photos. Don't be afraid to be daring add well. Masks, restraints, his favorite gadget and even a mink shawl can make your photos unique to you.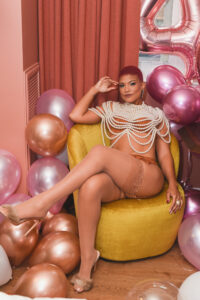 CONFIDENCE!
Most importantly remember to bring a fun and confident attitude to your session. Most women are shy about taking photos that are more on the sexier side, so it's important that you find a photographer that makes you feel comfortable. It's okay to have some nerves in the beginning, but as you take more photos you'll start to loosen up. There's nothing sexier than a woman who exudes confidence and believe me it makes a huge difference in your photos.